The Sensorsoft protocol based Relay is a low cost device for switching equipment at a remote location, ON or OFF, using your PC or UNIX workstation.
Equipment without remote control features sometimes require control remotely to avoid the need for expensive trips to a remote location or help from on-site personnel. Developing a solution to this type of problem often involves an engineer who can create custom software and hardware. The use of X-10 devices for this purpose has been known to fail during electrical interference making them unusable in a business critical environment. The Sensorsoft Relay is a simple and reliable way to use your computer to restart or turn ON/OFF equipment without the need for remote operators or time consuming trips to a remote location.
The Sensorsoft Relay connects via cable to a serial port on your computer and can be located thousands of feet away without the need for a battery or *external power adapter. Our unique serial "plug and go" technology insures that you can install it quickly and start using it without a fuss. The Sensorsoft Relay can be used to control *AC or DC devices using its DPDT (Double Pole Double Throw) relay contacts.
Our software provides a convenient way to display the ON/OFF state of your remote equipment and set the desired state you want with your computer.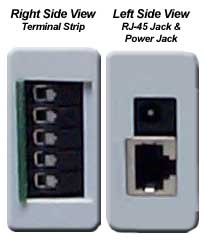 Applications
Control of door strike solenoid or lock
Re-boot or re-start locked-up equipment
Remote control of experiments
Computerized ON/OFF load control
Manage ON/OFF state of power consuming devices
Applications in building management or remote sheds
Features and Benefits
Computer connectivity - make equipment & appliances part of your network
Display and control the current ON/OFF state of equipment
Control *AC/DC, low or high voltage equipment with DPDT contacts
Prevent repeat trips to a remote location
Connects to any RS232 serial port
Windows and UNIX software available
Auto discovery protocol insures that no setup is required
Sensorsoft Relay uses a 16 bit CRC scheme to insure reliable operation
Locate the Sensorsoft Relay up to 1000 ft from the port
** No power supply required, Sensorsoft Relay is powered from the serial port
SR6171J Specifications
Control Capabilities: Can switch ON or OFF most small AC/DC powered equipment or loads.
Internal relay type: DPDT electromagnetic relay available through terminal strip.
Relay contact resistance: 50 milliohm maximum
Relay contact load rating: 2 Amp at 30 VDC, 0.5 Amp at 125 VAC, for resistive loads (p.f.=1)
Maximum contact operating voltage: 125 VAC/125 VDC
Maximum contact operating current: 2 Amp
Maximum contact switching capacity: 60W, 62.5 VA
Operating temperature/humidity range: -25 º C to +60 º C (-13 º F to +140 º F) and < 90% RH (non-condensating)
Maximum reading or control rate: once every second
Housing dimensions: 10 cm (3.9") x 5 cm (2.0") x 2.48 cm (0.97")
Housing material: injection molded ABS thermoplastic
Housing colour: light gray
Communications connector: 8 position modular jack, (accepts 8 position plug RJ45)
Power source: Port-powered (RTS and DTR, both asserted) or via External DC power connector
External DC power connector: 2.1 mm power jack, automatic polarity correction and over-voltage protection.
External power supply voltage: 9.0 - 12.0 VDC
Power supply current drain: < 15 mA
Communications interface: RS232C using TX,RX,RTS,DTR and GND. One device per serial port.
Maximum communications cable length: 305 m (1000 ft.) using recommended cable type. Low capacitance shielded cable or UTP is recommended.
Communications Protocol: Sensorsoft Device Protocol, Version 2.0
Error control: 16 bit CRC (cyclic redundancy checking) for detection of communication errors between the Sensorsoft Relay and host computer
Sensorsoft Relay with built-in DPDT relay and terminal strip
Brand: Sensorsoft
Product Code: SR6171J
Availability: In Stock
Related Products